Single Tooth Implant – Cumberland, RI
Complete Your Smile with a Dental Implant
Every tooth in your mouth is vital to how you feel about your appearance and your ability to perform simple daily tasks, like chewing and speaking. When even one is missing, it creates devastating consequences for your confidence and your quality of life. Now, there are several solutions available to rebuild a complete smile. As an alternative to a traditional bridge and crowns, you can experience the difference with dental implants in Cumberland. At Diamond Hill Dental, we will help you invest in a healthy, functional smile.
Single Tooth Replacement Options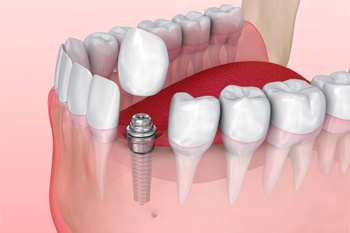 Although it may only be one tooth, it causes big changes for your oral health. Not only are you missing the crown, but you also lose the root. This makes your jawbone slowly deteriorate because it is no longer stimulated. Your remaining natural teeth will not have the support they need to stay in place, so they drift toward the open space. This leads to alignment and bite issues.
You will develop a heightened risk for tooth decay, gum disease, and additional tooth loss. As you lose more teeth, it makes it more difficult to maintain a balanced diet, which can lead to nutritional deficiencies. Not to mention, your appearance will change as wrinkles and sagging skin occur from your facial structures losing support.
Fixed Bridge: The most traditional solution to fill the space of a missing tooth is with a bridge and dental crowns. Your dentist in Cumberland takes an impression of your mouth to create a prosthetic tooth that matches the appearance of your natural ones. It is held in place by attaching dental crowns to your adjacent teeth. With the right care, this solution can last for an average of 5 to 10 years before needing to be replaced.
Single Tooth Implant: Now, a dental implant is the patient-preferred option to fill the space of a missing tooth because it closely mimics what nature gave you. An implant post is surgically placed into your jawbone to mimic the root. An abutment it attached to it to connect your custom-made crown. You can enjoy a treatment that has the potential to last for several decades with the right care, like maintaining your oral hygiene.
Benefits of a Single Tooth Implant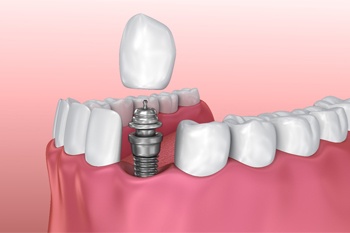 Dental implants provide a variety of benefits that are not possible with any other treatment because they replace both the root and the crown, such as:
Over 95% 10-year success rate.
Looks natural using all-ceramic material.
Regain as much as 70% of your biting force.
Does not alter healthy teeth.
Stops dental drift.
Reduces risk of tooth decay, gum disease, and additional tooth loss.
Preserves your jawbone's density.
Supports your facial structures.
Easy maintenance and care.
Cost-effective investment.
Long-lasting results.
Schedule a Consultation Today!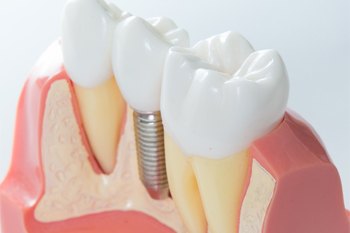 You do not need to live with the daily struggles of a missing tooth. You can invest in a confident future with a dental implant. Contact Diamond Hill Dental today to schedule your consultation for a complete smile.