Cosmetic Dentistry – Cumberland, RI
Make Your Smile Shine
Whenever you meet someone new, what do you think is the first thing they notice about you? If your mind immediately goes to noticeable stains, chips, or gaps in your teeth, then you're far from alone. Many people deal with these types of insecurities, but at Diamond Hill Dental, we can easily make them disappear behind a new, flawless smile with cosmetic dentistry. From teeth whitening to porcelain veneers to Invisalign and more, we have everything you need to get the confident smile you've always wanted, and it will probably be much easier than you think! To learn more about how we can transform your smile, contact us today.
Why Choose Diamond Hill Dental for Cosmetic Dentistry?
Get rid of multiple flaws at the same time with porcelain veneers
Customize a treatment to your exact specifications
Team of 3 highly trained & experienced dentists
Porcelain Veneers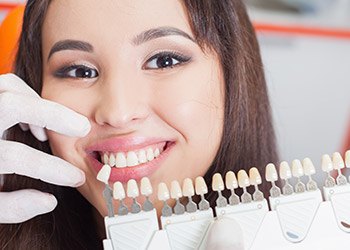 Porcelain veneers are extremely thin ceramic shells that are designed to look like perfectly white enamel and fit over the front of the teeth, and with them, our team can easily get rid of multiple aesthetic imperfections at the same time. Whether you're worried about stains, chips, cracks, gaps, or even slightly crooked teeth, porcelain veneers can give you a smile fit for the silver screen. Even better, they are always custom-designed, and it only takes two easy appointments to get them.
Metal Free Dental Restorations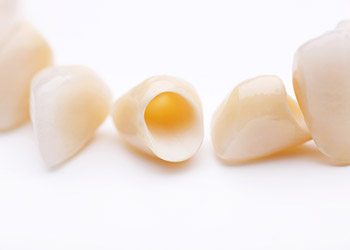 Modern-day dental materials now give us the ability to repair teeth in a way that brings back their strength and beauty in equal measure. These particular restorations are made of 100% white dental porcelain, which can be shaped and shaded to perfectly match the appearance of real enamel, even down to its slight translucency. With it, we can create a crown or bridge so realistic looking, even you will have trouble telling it apart from your natural teeth!
Dental Bonding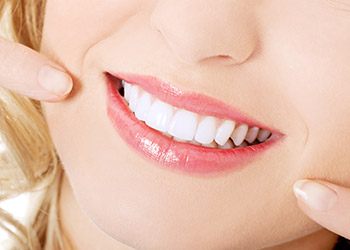 If you're just looking for a quick fix for a dark spot on one of your teeth, a small chip, or a thin gap, cosmetic bonding can make it go away in as little as an hour. Your dentist will apply a color-matched composite resin to your tooth and sculpt it to look like a regular part of the enamel, hiding any blemishes along the way. The treatment is not only fast, but painless as well, and you can look forward to the results lasting for up to 10 years.
Teeth Whitening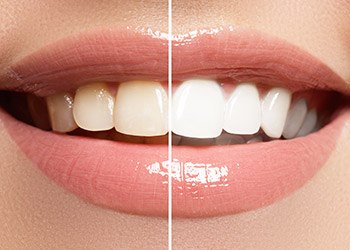 If you're looking to get rid of annoying coffee, wine, or tobacco stains on your teeth, then Sinsational Smile can help you do accomplish this goal in as little as 20 minutes. We simply place a tray filled with a powerful bleaching solution over the teeth, and then we expose it to a special UV light to activate it. In minutes, it can break up the most stubborn stains and help make a patient's teeth 6-8 shades whiter.
Invisalign®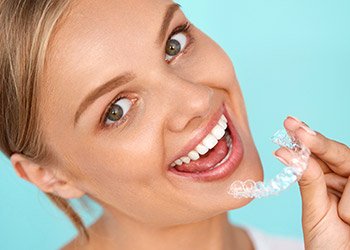 Invisalign® is an orthodontic treatment designed with adults in mind. Instead of brackets and wires, it uses a series of clear plastic aligner trays to gently shift the teeth into their proper positions. They are so subtle in appearance that no one will notice you're using Invisalign® unless you tell them, and you can simply take the trays out whenever it's time to eat or brush. Better yet, Invisalign® is often able to straighten the teeth much faster than traditional orthodontics as well!