Dental Implants – Cumberland, RI
The Gold Standard of Tooth Replacement
Over the past two decades, dental implants have become the preferred way dentists around the world replace any number of missing teeth. Why are they so popular? Because unlike other restorative options, they bring back both the root and crown of a tooth, providing the most reliable, durable, and natural-looking results possible. At Diamond Hill Dental, you can now get this state-of-the-art treatment right here in Cumberland, helping you reclaim your full smile for a lifetime to come. To learn more about this service and what it could do for you, contact us today for a consultation.
Why Choose Diamond Hill Dental for Dental Implants?
Restorations custom-made for each patient
98% success rate—able to last 30 years or more
Kind, compassionate & highly skilled team of dentists
Benefits of Dental Implants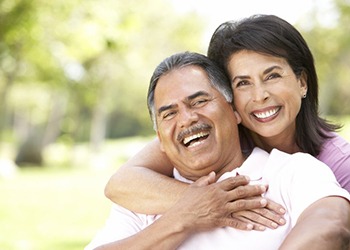 Stability: A dental implant is a small titanium post that is placed directly into the jawbone to recreate the root of a lost tooth, and this can then be attached to a restoration that shows within the smile. This gives implants unmatched stability, ensuring a patient can eat whatever they want without having to worry about annoying shifting or breakage.
Aesthetics: Implants are typically topped using white porcelain restorations, helping them have an extremely realistic appearance. After the procedure is complete, only a patient and their dentist will actually know which tooth is the implanted one!
Bone Retention: Implant roots also reestablish important internal support for the jawbone--they stimulate the area, encouraging the growth of new, healthy bone. This helps maintain the strength of the bite and also stop bone loss, something which no other treatment can do.
Longevity: With the proper care, an implant can be expected to last for decades or even the rest of a patient's life in many cases.
How Dental Implants Work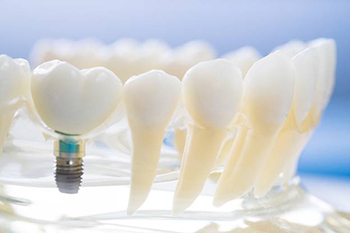 The process of receiving dental implants requires several steps and multiple appointments, including an initial consultation, a surgical procedure, and the creation and placement of custom-made restorations. At Diamond Hill Dental, we're proud to partner with trusted specialists in the greater Cumberland community so that our patients can have a smooth, successful care experience from beginning to end, as well as truly exceptional results for their brand-new, recompleted smile.
Learn More about How Dental Implants Work
Indications for Dental Implants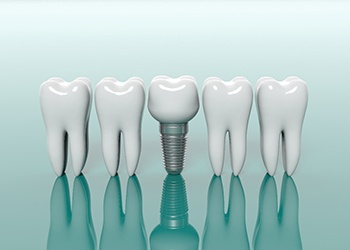 Dental implants are actually quite a versatile treatment – they're able to restore single, multiple, and even a full set of teeth. Our team can help you choose which of the following options is best for you depending on your specific needs:
Missing One Tooth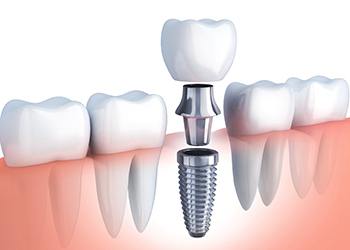 After an implant root is firmly positioned within the jawbone, a single crown can be attached to the top using a small connector called an abutment. The surrounding teeth won't need to be altered to accommodate this tooth unlike with a traditional bridge, which helps the patient preserve more of their natural smile.
Learn More About Single Tooth Implant
Missing Multiple Teeth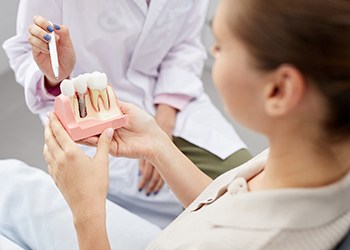 If a patient is missing three or more teeth in a row, instead of replacing each one with an individual implant, two implants placed on either side of the gap can support a strong and reliable bridge.
Learn More About Missing Multiple Teeth
Missing All Teeth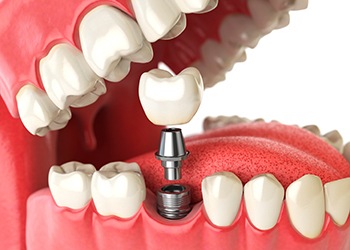 Using as little as four strategically placed implants, we can secure a denture directly to the jawbone to replace a large number of missing teeth. Compared to a regular removable prosthetic, implant-retained dentures are much less likely to slip and slide in the mouth. They can also restore a patient's biting strength, enabling them to enjoy a wider variety of foods.
Partnered With Cumberland's Best Specialists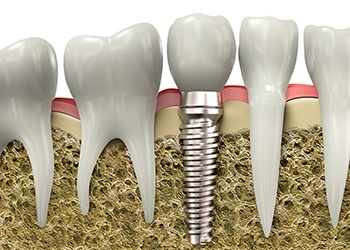 In order to get dental implants, a patient first needs to undergo a minor surgery in order to have the new roots placed into the jawbone. To ensure that our patients receive the highest level of care, we're partnered with a network of oral surgeons and periodontists in the local Cumberland area. They have literally placed thousands of implants over the course of their careers, and we trust them to ensure that our patient's new smiles will have a firm foundation. After you have healed from this surgical placement, you'll return to Diamond Hill Dental to receive your final restorations.
Understanding the Cost of Dental Implants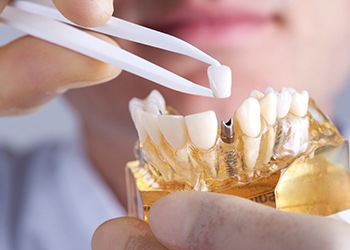 The cost of the implant procedure can be quite different from person to person, depending on their individual needs. Factors such as how many teeth a patient wants to be replaced, where they are located in the mouth, and what kind of restoration is used can all make the procedure more or less expensive.
While implant restorations do tend to be more expensive than other options, they are actually the better long-term investment for most patients. Traditional bridges and dentures typically need to be replaced every 7-10 years, while dental implants can often last for 30 or more, saving a patient thousands in periodic maintenance and retreatment over time.
Dental Implant FAQ's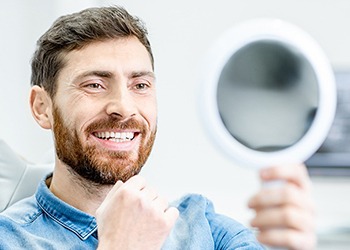 The decision to restore your smile with dental implants will pay off for decades. But with any big decision, it's natural to have questions before getting started. Over the years, our experienced team of dentists at Diamond Hill Dental have helped many patients through the implant process and have put together answers to the questions we hear most often. But if there's anything you'd like to know that isn't addressed below, you can contact us anytime. As a dentist in Cumberland, we've seen firsthand how beneficial implants are and we're always happy to help!
Are All Dental Implants the Same?
There are different types of implants designed for different needs. For example, mini-implants are often used to anchor full dentures and, due to their small size, are especially helpful for people who have lost bone mass in their jaws. In most cases, we can use just 2-6 mini-implants per arch.
Is Getting Dental Implants Painful?
The first step in the process is a small, in-office surgery, which many people say was no more uncomfortable than having a tooth extracted. We also work with the Cumberland area's best oral surgeons and periodontists who undergo years of extensive training to make the procedure comfortable and stress-free. The first thing they'll do is make sure you're completely numb and they'll also offer multiple types of sedation for anxious patients.
What Is the Recovery Process Like?
This can vary depending on your general health and how many implants you're getting. In general, the gum tissue will feel swollen and tender for 2-3 days and the healing process will be done in about 5-7 days. While most people report that their discomfort is very manageable, we do recommend that you take a couple of days off work or school to recover. Your surgeon will discuss options for pain medication and how to care for the area while it's healing.
Also, keep in mind that this initial healing period is different from the process of your implant fusing with your jawbone (called the osseointegration process). This typically takes 3-6 months, during which the implant will be protected with a "healing cap" that allows you to eat and drink normally.
Am I a Good Candidate For Implants?
Dental implants in Cumberland are a wonderful choice for many people, but since each person is different, the best way to find out is scheduling a consultation. We'll spend time thoroughly evaluating your dental history, general health, lifestyle choices, and other factors before recommending implants to make sure they're right for you. Here are some of the things we'll be looking for:
Adequate jawbone levels – If you've lost bone mass in your jaws, we may recommend a bone graft before the implant procedure to strengthen the area and prepare it for implants.
Tobacco use – Non-smokers have a 98% success rate, but that drops to around 85% for smokers.
Reasonably good gum health – Your implants need strong, healthy gum tissue to support them. If your gums are less than healthy, you might need gum therapy beforehand.
General health – We want to make sure you heal well after the procedure and may suggest an alternative tooth replacement option if you have any conditions that impair the healing process.
If you'd like to know more about whether implants are right for you, don't hesitate to get in touch!