Implant Dentures – Cumberland, RI
Preserve Your Jawbone with Long-Lasting Prosthetics
The professionals at Diamond Hill Dental understand the challenges a person suffering from tooth loss can face. While traditional dentures can help restore the look of a fully functional smile, there are many pitfalls to this type of tooth replacement. From a deteriorating jawbone to accidental slippage while eating, it's no surprise these prosthetics cause many individuals to make the switch to a more permanent solution. With implant dentures in Cumberland , you can avoid the difficulties of dentures and instead, embrace a solution that promises greater oral and overall health, the ability to eat the foods you love, and a way to maintain a long-lasting smile for decades or longer. Contact us today to schedule an appointment and learn more about implant dentures from our trusted team of experts!
What Are Implant Dentures?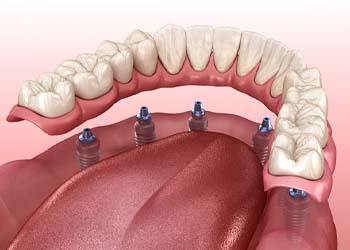 Unlike traditional dentures that sit on top of the gums, implant dentures are placed within the jawbone and create a stable support system for your implant posts and customized denture. Designed to mimic the natural tooth structure and provide stimulation to your jawbone, these prosthetics allow for a greater bite force and chewing power as well as improved oral and overall health. Implant dentures are permanent, which is one of the most appealing factors to people living with tooth loss.
When meeting with your implant dentist in Cumberland, you will discuss whether you prefer a fixed or removable denture.
Fixed/Permanent Implant Dentures
If you choose a fixed implant denture, also referred to as a hybrid prosthesis, you will likely need between 4 and 8 dental implant posts. You must have enough jawbone to support your prosthetics, and you will be unable to remove your denture once it is secured in place. Only a trusted expert can remove it. However, you can expect an easy-to-maintain solution because of how your new teeth will feel and act.
Removable Implant Dentures
If you prefer a removable denture, also known as a "Snap-On denture," you will not need as much jawbone. As a result, you may only need between 2 and 5 implant posts. This type of prosthetic is removable and is held into place with a bar- or ball-retained device. This allows you to take it out to clean before bed.
The Implant Denture Process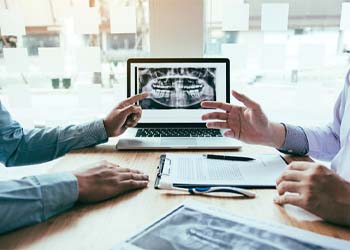 Every patient who receives dental implants in Cumberland must go through the same process. While no two cases are the same, the same stages must be completed: initial consultation, dental implant surgery, osseointegration, the final placement of the restoration.
You will first meet with your implant dentist during a consultation. You will learn if you need preliminary treatment or can move freely onto dental implant surgery.
On the day of your procedure, you will receive local anesthesia from a trusted specialist before small incisions are made in your gums to expose the underlying bone. They will then place each implant into its appropriate place and close the tissue before placing a healing cap.
You will spend the next 3-6 months recovering at home while osseointegration occurs. Once you've fully healed, you'll return to have any abutments placed.
The last phase is to receive your customized denture. Whether you choose a fixed or removable prosthetic, our team will make sure it fits correctly and looks natural.
Am I a Candidate for Implant Dentures?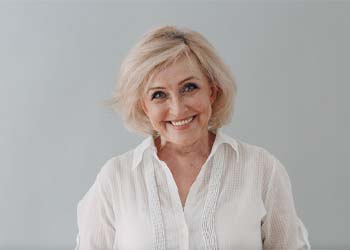 There are three factors we will look at when considering you for implant dentures:
Your oral health and if you show signs of gum disease. If so, we'll recommend periodontal therapy to ensure healthy soft oral tissues.
Your overall health and if you have any autoimmune disorders or health conditions that might interfere, cause your dental implants to fail, or make it difficult for you to undergo minor oral surgery.
Your jawbone density and if you have enough to support your implants. If not, you will be required to undergo a bone graft or sinus lift depending on the location of your implants.
Do not worry if you think you may not be eligible. Most adults with tooth loss are considered viable candidates for implants. Our team will simply need to identify if you need any pre-treatment before you can safely receive your new prosthetics.
Benefits of Combining Dentures & Dental Implants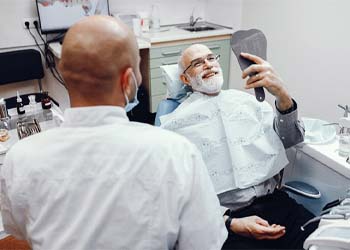 By combining dentures and dental implants, you can expect an incredible solution that will allow you to live life to the fullest. Many of the benefits that come with combining these two solutions include:
A natural appearance that helps to boost your confidence
The ability to eat the foods you love without worrying about feeling anxious or embarrassed because of your smile
A way to minimize your risk for serious overall health issues that can arise because of tooth loss (i.e., diabetes, heart disease, osteoporosis)
A cost-effective way to restore your smile and maintain it for decades or even a lifetime