Porcelain Veneers – Cumberland, RI
Attain a Custom-Made Perfect Smile
When you see your reflection in the mirror, are you distracted by all the aesthetic imperfections in your teeth? When you laugh in front of other people, are you in the habit of hiding your teeth behind your lips or hand? At Diamond Hill Dental, we understand that having cosmetic flaws in your teeth is no laughing matter and can take a serious toll on your self-confidence. That's why we offer porcelain veneers – an easy treatment that can help you attain a smile fit for the silver screen. Keep reading below to learn more about porcelain veneers in Cumberland and whether they're right for you.
Why Choose Diamond Hill Dental for Porcelain Veneers?
Customize Treatment to Your Exact Specifications
Conceal Multiple Flaws at the Same Time
Team of Highly Experienced Dentists
What Are Porcelain Veneers?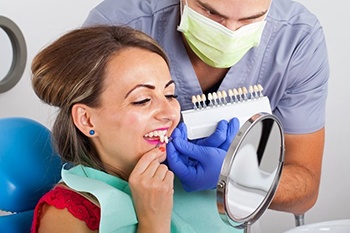 Porcelain veneers are super-thin sheaths of dental ceramic that are bonded to the front surfaces of your problem teeth to mask all kinds of cosmetic and even structural flaws, like:
Chips
Cracks
Gaps
Stains
Misshapen, stubby, or worn-down teeth
Mildly crooked teeth (earning them the nickname "instant orthodontics")
Each veneer is custom-made to blend in with your smile while giving you effortlessly flawless results. Once they are applied, all of the imperfections listed above simply vanish.
What Are the Benefits of Porcelain Veneers?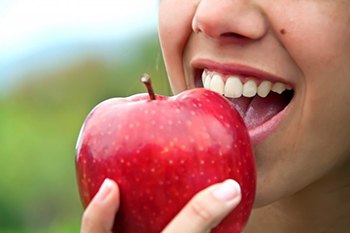 Because of the material used to create them, porcelain veneers offer a number of advantages, including:
Natural results. Since veneers reflect light just like tooth enamel, no one will even be able to tell that you got dental work done.
Veneers can withstand the normal wear and tear of chewing just like your natural teeth can.
If you take proper care of your veneers with regular brushing, flossing, and dental checkups, they can last upwards of 10-15 years.
They can correct multiple flaws in just one procedure.
Veneers shouldn't irritate your gum tissue and should feel incredibly comfortable in your mouth.
How Does the Veneers Procedure Work?
After you and your cosmetic dentist in Cumberland have determined that veneers are the right option for your smile, treatment will proceed as follows:
We will remove a tiny sliver of enamel from the affected teeth so that the veneers will sit flush against the line of your smile.
Impressions of your prepared teeth will be taken and sent off to our partnered dental lab, where your restorations will be crafted.
Before you leave, we'll adhere temporary veneers to your teeth to protect them.
A few weeks later, when your permanent veneers are ready, you'll return to our office. We'll remove your temporaries and place your brand-new smile!
Am I a Candidate for Porcelain Veneers?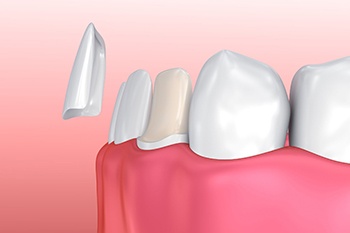 As with the majority of other cosmetic dentistry procedures, you must be in good oral health before going through with treatment. If you currently have issues like gum disease or cavities in your affected teeth, then we will have to address those problems first.
The only way to know for sure whether you qualify for porcelain veneers is to contact us to book a consultation. At this appointment, we can determine whether veneers are just the thing you need to take your smile from blah to beautiful!
Veneers FAQs
At this point, maybe veneers for your smile sound nice. They could, after all, greatly transform your tooth color, shape, and position! Still, the odds are that you want to learn more about them. Having the right facts beforehand will help you feel confident in treatment. Fortunately enough, Diamond Hill Dental has what you need: below are the answers to some popular veneer questions. Before committing to care, try reading them over. Otherwise, feel free to call our office for additional details.
How Long Do Veneers Last?
As it happens, veneers are one of the longest-lasting cosmetic dental treatments. Their average lifespan is roughly 10-15 years. With proper care, though, these shells can last as long as 30 years or more.
The latest scientific research backs these conclusions. For example, a 2007 study from the University of Queensland found that 73% of 304 studied veneers lasted 15-16 years. Similarly, a 2012 Innsbruck Medical University study saw 83% of its shells survive for 20 years.
Of course, veneers can (and sometimes do) fail early. Some might develop fractures, chips, and cracks due to accidents. As such, they'll only last long if you stick to a good hygiene routine and avoid bad oral habits.
What Happens to the Teeth Under Veneers?
In themselves, veneers don't do any harm to your teeth. However, it is a fact that dentists have to prep your chompers for the shells.
In particular, teeth with veneers have some of their enamel removed. This measure ensures the treated area has a bondable surface. Furthermore, it also lets veneers adhere to teeth without looking bulky.
Pearly whites that receive veneers don't increase your risk of cavities. The shells cover your tooth surfaces, thereby protecting them from plaque and bacteria. That said, you'll still need to brush and floss to keep underlying teeth from decaying.
Will I Still Be Able to Drink Coffee with Veneers?
Ordinarily, yes – you can drink coffee without ruining your veneers. The shells are inherently durable and stain-resistant due to using porcelain. Consequently, particles in dark-colored foods and drinks struggle to slip beneath their surface.
Even so, remember that stain-resistant doesn't mean stain-proof. Excessive coffee consumption could yet stain your veneers. Therefore, try to restrain yourself and only have dark-colored drinks in moderation. Doing so will allow your veneers to last as long as possible.
Do Veneers Give You a Lisp?
Veneers actually can sometimes give you a lisp. Specifically, the added bulk of the shells may affect how your tongue moves. Should that happen, you may struggle to pronounce the "s" and "v" sounds.
Still, this symptom isn't anything problematic. Your tongue will eventually adjust to the veneers and speak properly again. Furthermore, a dentist can always reduce the relevant thickness to make a lisp fade. That way, any lisp you develop will be temporary at best and only mildly affect communication.