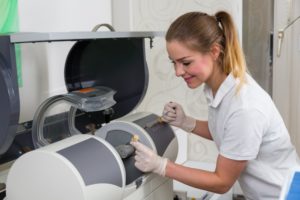 In the past, if you were in need of a dental crown, the process required at least two visits to a specialist. With the new innovations in dentistry, though, there is a way to have your tooth restored in just one appointment. Read on to learn about the many advantages of same day crowns in Cumberland.
The Traditional Method for a Crown Fabrication
The usual process for receiving a dental crown is for a dentist to complete any treatment that is needed for a tooth. Then, he or she will capture bite impressions that are sent to a dental ceramicist to fabricate a permanent crown.
The patient will be fitted with a temporary crown while waiting up to one-to-two weeks for the permanent fixture to be created. When the crown is received from the lab, the patient is invited back to the dentist's office to have it placed.
What is a Same Day Crown?
With the chairside economical restoration of esthetic ceramics (CEREC) method, your tooth can be restored in just one visit. This is made possible by the combination of computer-assisted design (CAD) and computer-assisted milling (CAM).
Your dentist will use the former to create the blueprint for your new crown and then send the information to the in-office milling machine to create a custom crown to perfectly restore your tooth.
The Advantages of CEREC
Along with saving you time, here are some of the other advantages to the CEREC method:
Cost-Savings – Because the CEREC procedure is done completely in-office, you are likely to see some cost-savings.
Tooth Preservation – While the traditional method of placing a new crown requires the removal of much of the existing tooth, the CEREC procedure typically preserves more of the original material.
Durable Construction – The last thing you want to do is sacrifice quality to save time. With the CEREC method, you can rest assured that the final application will be strong and durable.
Aesthetically-Pleasing Look – Because your crown is made from high-grade porcelain and is custom-crafted, you'll have a final restoration that looks just like your other teeth.
No Need for a Temporary Crown – The traditional crown placement method requires the placement of a temporary crown while the permanent fixture is being created. This can leave you more susceptible to a dental emergency. Fortunately, a same day crown eliminates the possibility of this happening.
With CEREC crowns in Cumberland, treating your tooth is now made simple, leaving you with a beautiful and functional restoration!
About the Author
Dr. Saba K. Abernethy earned her dental degree from the Boston University School of Dental Medicine. She would later go on to become a Fellow of the Academy of General Dentistry, which places her among only 6% of General Dentists in the United States. Dr. Abernethy restores patients' teeth with CEREC same day crowns at Diamond Dental, and she can be reached for more information through her website.