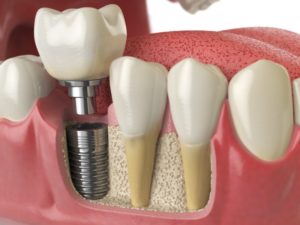 Are you tired of trying to manage your slipping dentures and recovering from slurring your words in the middle of important conversations? While your dentures are aesthetically pleasing, they add extra inconvenient moments to your life and make you self-conscious. Dental implants in Cumberland can improve your quality of life by requiring little maintenance. They can also boost your self-confidence by improving your speaking and chewing abilities. Implants are great, but expensive. Are they worth it? Yes, because they last for a long time. How long? Read on to learn more.
What are Dental Implants?
Dental implants are when metal posts that are surgically placed into your jawbone to mount dentures or bridges onto. They have become the preferred way for dentists to repair and replace teeth. They're the most popular restorative option because they stand in for both the root and crown of the tooth. This makes them the most reliable and stable replacement option while also providing a natural look and feel with little to no additional maintenance. You can reclaim your smile for a lifetime with dental implants.
Are Dental Implants Long-Lasting?
Dental implants can last more than 25 years if they're properly taken care of. Whether or not they last is based on several factors:
Some good ways to keep up with implants is stick to your routine of brushing twice a day, flossing, and scheduling your semi-annual dental checkups.
It's best to try not to use your teeth as tools. Avoid using your teeth to open containers and packets and try to keep from chewing on pens and pencils.
Be evaluated by a skilled dentist that can be sure that your jawbone will be able to completely support your implants.
Dental implants are most successful when you keep up with your nutrition and overall health.
What Health Benefits do Dental Implants Have to Offer?
Because they are connected to your jawbone, implants offer the stability that dentures can't. When you're eating and speaking, you won't have to worry about looseness or shifting and slipping. They hold everything in place and offer a more natural feel and look. If you have a sensitive gag reflex, dentures may have not even been an option for you. Because implant dentures are smaller, they typically don't have a plate that covers the roof of your mouth, so you won't have to worry about your reflex being triggered. Also, when you get implants, you won't need to have existing teeth ground down or prepared to be fixed to your new replacements.
With all of the benefits dental implants offer, it's no wonder they've become the #1 choice for dentists and patients alike.
About the Practice
At Diamond Hill Dental, we share a passion for individualized and honest patient care. With access to decades of experience, you'll feel safe and confident in the treatment we can provide you. We'll put your needs first and give you a smile that you're proud of. To schedule a dental implants consultation appointment, or for any questions, visit our website or contact us at 401-333-2700.