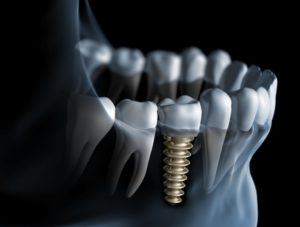 If you're missing a tooth, dental implants that stay secure in your mouth and let you eat anything you want might sound like the best option available. So if the dentist tells you that you're ineligible for the surgery because you've already had too much bone loss, the news can be devastating. Luckily, it doesn't always have to be this way! In many cases you'll still be able to receive dental implants in Providence after getting a bone graft.
Why Would You Need a Bone Graft to Get Implants?
If you lose a tooth or multiple teeth, the unused portion of the jawbone will start to deteriorate. Over time this can cause a misaligned bite; you'll also look much older as your facial structure collapses. Dental implants can stop the deterioration from occurring, but the downside is that there still needs to be enough bone left to support the posts. Otherwise the implant won't be integrated with the jaw and will fail.
A bone graft procedure can reverse deterioration in your jaw, giving it the strength and stability needed for a successful implant procedure.
How Do Bone Grafts Work?
There are four types of bone graft, each of which uses materials from different sources:
Autografts – sometimes considered the "gold standard" – uses bone from another part of your own body, usually the hip.
Alloplasts are made of synthetic materials; they contain minerals found in natural bones.
Autografts take bone from a human donor (posthumously in most cases).
Xenografts use animal bones.
The graft material is surgically added to the jawbone. This allows a process called osteoconduction takes place, encouraging cells outside the graft to start forming new bone on the surface. Given enough time, your jaw will eventually regain the strength needed to support a dental implant.
Usually an autograft will be recommended since it makes the regeneration process more seamless. (Which makes sense; after all, it's your own bone!) If this isn't possible, alloplasts or another type of graft will be used instead. Your dentist in Providence will have the training to help you determine the correct procedure.
How Long Will Bone Grafts Take?
Of course, you can't expect your jaw to rebuild itself right away. It can take months for enough new bone to be created for the implant surgery, though exact healing times will vary depending on the person. That said, some patients might be able to have both procedures done on the same day.
Replacing a missing tooth can make a huge difference in the quality of your life, so it's important to explore all of the available options. Ask your dentist if a bone graft or another procedure could ultimately help you repair your smile!
About the Practice
At Diamond Hill Dental, Drs. Saba K. Abernethy and Fidelito Gabriel combine their extensive clinical expertise and advanced training to provide Cumberland families with honest, compassionate care. They work closely with local specialists to ensure patients receive high-quality implants. To schedule an appointment, visit their website or call (401) 333-2700.