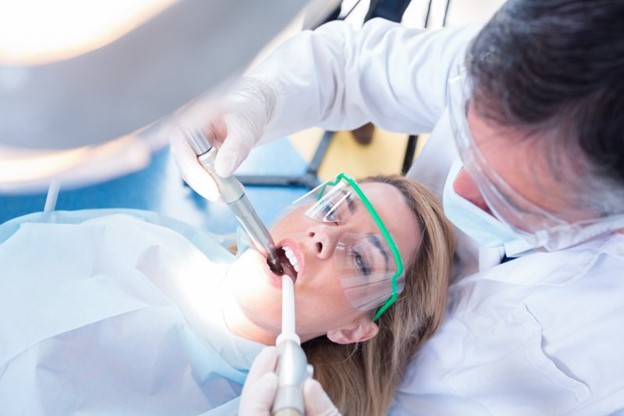 When you hear the term "ozone", you probably have the inclination to look up at the sky towards our Earth's ozone layer. But in the context of general dentistry, ozone means something a little different. Ozone therapy is an increasingly popular treatment option being offered by dentists all over. But what exactly is ozone therapy and why are some people turning towards it for a better smile? Here's everything you need to know about the process, including how it's used and its many benefits.
What Exactly Is Ozone Therapy?
Ozone is nothing new in the world of medicine; it's been utilized since the late 1800's to purify drinking water. It can oxidize and destroy microbes such as bacteria and viruses, and it was even widely used to treat infections during WWII. But when applied to dentistry, it is even more useful!
Ozone therapy is often used as an alternative treatment for ongoing tooth decay. The affected tooth is exposed to the ozone gas (sometimes water or oil), which consists of three oxygen atoms that are bonded together. This gas carries antibacterial properties and is naturally attracted to areas of inflammation and infection in your mouth. It eliminates any harmful bacteria that it crosses, while also altering the pH levels in your mouth to help neutralize any acidity and discourage further bacterial growth.
How Is Ozone Therapy Used?
Ozone therapy has many different uses in dentistry, including:
Treating gum disease – If your gums are inflamed, ozone therapy can target the bacteria that's causing the swelling. It can also treat the hard-to-reach places in your mouth that your toothbrush or floss can't access.
Halting tooth decay – Ozone therapy can treat small cavities before they have the chance to grow and cause tooth decay.
Sterilization – If your dentist needs to prepare your mouth for a filling or some other type of restoration, ozone treatment can ensure your whole mouth is sterile. This can also combat various types of infections associated with tissues in and around the mouth, including sinus infections and lesions caused by viruses and fungi.
Easing TMJ discomfort – Ozone therapy can also relieve some of the common symptoms associated with TMJ disorders including jaw pain.
What Are the Benefits of Ozone Therapy?
Ozone therapy is beneficial for many reasons:
Minimally invasive and doesn't require any enamel removal or surgical procedures.
Entirely pain-free and a good option for patients with dental-related anxiety.
Can be effectively applied as a gas or liquid.
Takes a single appointment and there's no recovery time necessary.
A healthy mouth is a happy mouth! Being diligent about your oral health and seeking preventive treatment can do a lot to ensure that your smile remains bright and white for a long time. Talk with your dentist if you're curious about receiving ozone therapy to enhance your smile.
About the Author
Diamond Hill Dental proudly serves patients and families in the Cumberland area under the leadership of Dr. Saba K. Abernethy! Dr. Abernethy received her dental doctorate from the Boston University School of Dental Medicine and is a Fellow of the Academy of General Dentistry, an honor achieved by only 6% of General Dentists in the US. Her practice offers many available services, including preventive dentistry options. To schedule a visit, please reach out online or by phone: (401) 333-2700.