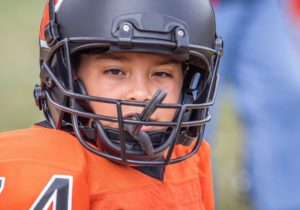 The new school year brings a lot of excitement. In the midst of buying supplies and clothes, one important thing can go overlooked: a mouthguard. If your child plays sports, you want to do all you can to protect their smile. After all, of the 30 million kids that participate in athletics, only 41% use protective gear for their mouths. So, it's not hard to see why more than 5 million teeth are knocked out every year! Read on to learn more about the importance of a customized mouthguard for your child.
Why Are Mouthguards Important?
A mouthguard is an oral device that fits over the teeth to protect them. This small, plastic guard should be considered just as important as a helmet or padding when playing sports. Their wide range of purposes includes:
Shielding the teeth: Mouthguards protect teeth from being chipped, broken, or knocked out when hard contact is made with the face. It ensures keeping them safe and in place.
Protecting the upper and lower arches from each other: By creating a barrier between the upper and lower teeth, a mouthguard keeps them from crashing into each other on impact.
Minimizing the risk of dental concussion: Due to their u-shape, a mouthguard helps redistribute the force of an impact, which can potentially prevent a dental concussion (a tooth loosened but not knocked out).
Shielding the soft tissues: When playing sports, it's important to not only protect the teeth, but also the lips, cheeks, and tongue from getting bitten or cut by the teeth during an impact. A mouthguard shields the entire mouth.
Reducing the risk of concussion: Some studies show that wearing a mouthguard can lower the risk of developing a concussion during a sports injury.
The Benefits of a Custom-Fit Mouthguard
There are a wide variety of mouthguards. Many can be bought at local sports goods stores or pharmacies. While these can be convenient options, over-the-counter mouthguards aren't custom-fit, which can increase the likelihood of injuries. Additionally, they are not made of durable materials, so they don't often provide the best protection.
The best option is to invest in a customized mouthguard from your child's dentist. It will be made of high-quality, comfortable materials and fit your child's mouth perfectly for maximum protection. You can rest easy knowing your little one's smile will remain complete and healthy for the entire sports season!
Playing sports is so beneficial for your child, but you also want to be sure their smile is always protected. A custom mouthguard will help them keep their pearly whites safe while enjoying their activities!
About the Author
Dr. Saba Abernethy and her team at Diamond Hill Dental make your smile their top priority! She earned a Fellowship in the Academy of General Dentistry, a designation only 6% of dentists have, and is a member of several dental associations. As a mother of two, she understands the importance of keeping your child's smile healthy, which is why she provides a range of dental services (including custom mouthguards)! To schedule an appointment, contact her through her website or call (401) 333-2700.