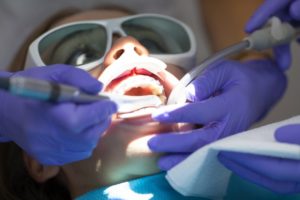 The field of dentistry has come a long way in the past several decades, especially regarding technology. The innovations have made a visit to your dentist easier, more comfortable, and extremely reliable. A great example of this is the use of a soft tissue laser. If your dentist offers laser dentistry, there are so many ways it can help your oral health. Read on to learn all about a soft tissue laser and all the various benefits it offers to your smile!
First Things First: What is a Soft Tissue Laser?
In simple terms, the soft tissue laser can replace the scalpel in a treatment or procedure. It uses a highly concentrated beam of light to cut through soft tissues. The laser is remarkably precise, so it only touches the infected tissue and avoids as much healthy tissue as possible. Your dentist has the maximum level of control while treating your smile, while also minimizing the risks of errors and complications.
What Benefits Does a Soft Tissue Laser Offer?
A soft tissue laser benefits you and your oral health in various ways, including:
Maximum comfortability
Treatments performed by a soft tissue laser are often so comfortable that the patient doesn't even need local anesthesia. You will be at ease the entire time during your procedure.
Minimal Bleeding
Unlike a scalpel, the laser cauterizes as it cuts. This drastically reduces bleeding and even eliminates the need for sutures!
Faster Recovery
A soft tissue laser has the ability to stimulate the growth of healthy tissue. This allows the patient to
recover faster from a procedure than ones performed with a scalpel or other traditional instruments.
Kills Bacteria
Research has found that a soft tissue laser kills over 99% of bacteria, which makes it an outstanding tool to combat oral infections, such as gum disease.
Treats a Whole Range of Dental Issues
Some of the most common uses for the soft tissue laser are to treat gum disease, as well as cosmetic issues like reshaping the gums to fix a "gummy" smile. However, it also can treat canker sores and cold sores, lip and tongue-tie, dental implant issues, impacted teeth, as well as drain oral abscesses.
A soft tissue laser is truly an amazing advancement in dental technology. By treating a range of issues, your smile is sure to be whole and healthy for years to come!
About the Author
Dr. Saba Abernethy and her team at Diamond Hill Dental are eager to help keep your smile whole, healthy, and thriving with laser dentistry. She earned a Fellowship in the Academy of General Dentistry, a designation only 6% of dentists have, and is a member of several dental associations. With a soft laser certification, she can effectively treat your oral health issue. To schedule a checkup, contact her through her website or call (401) 333-2700.