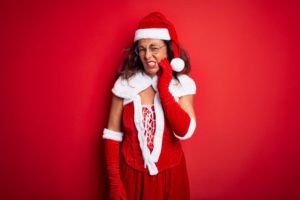 The holiday season is finally here! No matter which winter holidays you celebrate, most of them have one thing in common – foods that aren't exactly good for your oral health. If you're not careful, some of your favorite holiday foods could harm your smile and send you straight to an emergency dentist's office. To avoid ruining your teeth and your holiday experience, keep these five tips in mind!
1. Go Easy on the Candy Canes
Everyone knows that sugar leads to cavities, and candy canes are pretty much pure sugar. Sucking on them gives harmful bacteria ample opportunity to cause cavities, and biting on them could break a tooth. You don't have to completely cut this seasonal treat out of your life; after all, that's almost impossible at this time of year. Instead, be careful when you bite into a candy cane. Also, make sure to clean your teeth after eating one.
2. Drink Water When You Can
Many of the most popular beverages served at holiday parties – eggnog, wine, and soda – are terrible for your teeth. These drinks are high in sugar and acids that increase your risk of cavities and gum disease. Instead, stay hydrated with water whenever possible. It'll rinse lingering debris from foods and beverages off of your teeth.
3. Fill Up Your Plate Wisely
Holiday foods are often far from nutritious, but not all of them are bad for you. Instead of loading up on candies and cookies, fill your plate with veggies like carrots and broccoli. They naturally clean your teeth as you eat them, plus they contain vital nutrients that improve your overall health. Turkey is another seasonal staple that comes with oral health benefits – it's rich in protein and phosphorous, both of which strengthen your tooth enamel.
4. Don't Use Your Teeth to Open Presents
As satisfying as it may seem to tear open your gifts with your teeth, remember that teeth weren't designed to do anything more forceful than bite and chew food. Using your teeth as tools could all too easily result in breakage that sours your holiday experience as a whole. Take the time to open your presents with your hands; it will make the reveal that much sweeter!
5. Remember to Pack a Dental Kit
Among all of the sweet treats you'll be consuming, the last thing you need is to go without cleaning your teeth. If you're traveling this holiday season, even for a single night, don't forget to bring your oral hygiene products. You can find travel-sized toothbrushes, toothpaste, mouthwash, and dental floss at most grocery stores.
Don't let a painful dental problem ruin the time you're supposed to be enjoying with loved ones. By following these tips, your smile can stay in great shape throughout the holiday season and into the new year!
About the Authors
Dr. Saba Abernethy and Dr. Ana Seith provide compassionate, conservative care to patients of all ages at Diamond Hill Dental in Cumberland, RI. Although they offer same-day emergency dental appointments, they'd prefer to help you avoid such problems in the first place. If you or a loved one needs a routine dental visit, you can reach out to the team by calling 401-333-2700.