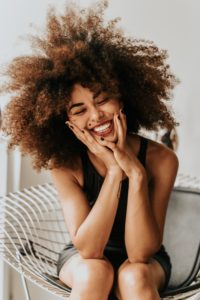 If you're unhappy with the way your teeth look, your cosmetic dentist can create a picture-perfect smile. Contrary to what you might have heard, cosmetic dentistry isn't expensive. You don't have to be a movie star or celebrity to revamp your smile. There are more options than ever to address common aesthetic flaws, like discoloration, chips, and gaps. You can benefit from elective services without breaking the bank. Here's how you can enhance your smile while staying within your budget.
Popular Cosmetic Procedures
Every mouth and situation differs, which is why there's no flat fee for cosmetic dentistry. After examining your mouth and learning more about your goals, your dentist will determine which procedures are right for you,
Porcelain Veneers: Attaching veneers to the teeth visible when smiling can correct several issues at once. This provides a cost-effective solution because you won't have to pay for multiple procedures to enjoy results that can last for 10 years or more.
Metal-Free Dental Restorations: All-ceramic material is used to create durable crowns that look natural. They are customized to the color, size, and shape of your natural teeth to blend in with your smile.
Dental Bonding: A composite resin is shaded to the color of your enamel to fix minor imperfections quickly, like chips, decay, or exposed tooth roots.
Teeth Whitening: Professional teeth whitening can get your smile up to 8 shades whiter with results that can last for many months or years with the right aftercare. You can stop throwing money away on ineffective over-the-counter products.
Invisalign: Fixed bite and alignment issues without the unsightly appearance of brackets and wires. Clear aligners are worn over your teeth to move them gradually into their best positions.
Keeping Cosmetic Dentistry Affordable
There are several options to keep cosmetic dentistry affordable,
Dental Insurance: It's rare for dental insurance to pay for elective services, but there are exceptions. If your dentist recommends a procedure because it is medically necessary, you can use your coverage to offset the cost. Many cosmetic procedures offer restorative benefits, like dental bonding or crowns. After meeting your annual deductible, your insurance can pay up to 80% of the expense of common restorative treatments.
Monthly Payments: You can pay any out-of-pocket expenses using a monthly payment plan through a third-party financing company, like CareCredit. Based on your credit approval, you can enjoy little or no interest in financing.
In-House Membership Plans: Many dental offices offer in-house membership plans. By joining a membership program, you can benefit from discounted rates for common services.
People from all walks of life are choosing to boost their confidence with cosmetic dentistry. You can achieve a smile you will be proud of without it costing you an arm or a leg.
About Dr. Maxwell Aniconi
Dr. Aniconi earned his dental degree from Midwest University and has regularly pursued continuing education in many specialties, like laser therapy, orthodontics, and cosmetic dentistry. He is a proud member of several professional organizations, including the American Dental Association. Request an appointment through our website or call (401) 216-1926.