How Dental Implants Work – Cumberland, RI
Your Route to a Renewed Smile
Are you considering dental implants in Cumberland as a way to replace your lost teeth? You have much to look forward to, including a more confident smile and a lower risk of oral health problems. But what exactly does it take to rebuild a smile with dental implants? Every patient's mouth is unique, which means that every person's dental implant journey is unique. However, we are able to give you a general overview of what you can expect in the coming months.
Initial Dental Implant Consultation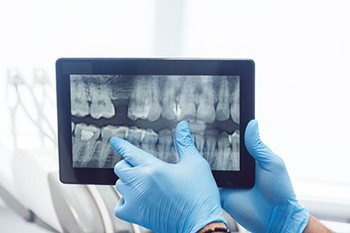 This initial appointment establishes the foundation for the rest of your implant treatment. During the consultation, our team will take detailed images of your mouth and learn as much relevant information as we can about your oral and overall health. We'll check for things like gum disease, bone density, and more. We'll also answer your questions about dental implants and help you to have realistic expectations for the path ahead of you. If we determine that you are a viable candidate for dental implants, we'll get started on planning the rest of your treatment.
Dental Implant Surgery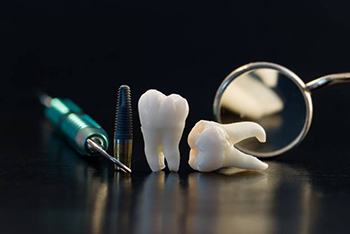 We work closely with local specialists for this part of the treatment. A skilled oral surgeon will insert the implants at pre-planned positions throughout your jaw and close the gum tissue over them. Most patients are surprised by how easy and comfortable the surgery is; it's possible that you'll be feeling well enough to return to work within a day or two. Your surgeon will provide you with detailed postop instructions to help your recovery be as smooth and easy as possible. By being mindful of what you eat and using smart oral hygiene practices, you'll be able to protect the surgical site(s) so your body can focus on healing around the implants.
Dental Implant Osseointegration & Abutment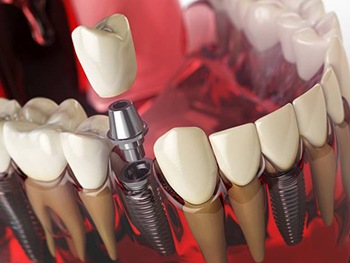 In the months following your implant surgery, something remarkable will happen. Because dental implants are made out of a biocompatible titanium alloy, they work well within the human body. In fact, they work so well that the tissue around them actually fuses to them! This process of osseointegration enables the implants to act as substitute tooth roots and provide the strongest base possible for your new teeth. Following osseointegration, you'll undergo another minor surgery wherein the implants will be expose and little healing caps will be placed on top of them. When your gum tissue has healed, you'll receive abutments (which connect the implants to the final restorations).
Placement of Dental Implant Restorations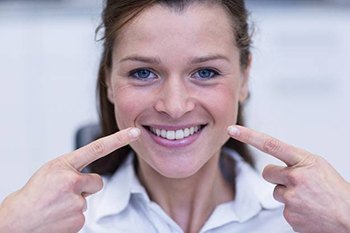 When your implants are ready, our team will take impressions of your mouth and use them to design your final restorations. These restorations are usually made out of acrylic or porcelain, strong materials that closely resemble the look and feel of natural teeth; you can expect your restored smile to be both beautiful and comfortable. After we attach your restorations, we'll coach you on how to take care of them so they maintain their appearance and functionality for many years to come.
Are you ready to discover whether dental implants are right for you? Contact us as your dentist in Cumberland to schedule your consultation.