Missing Multiple Teeth – Cumberland, RI
Replace Your Missing Teeth with Dental Implants
Losing a single tooth can make you feel insecure about your appearance but losing multiple teeth can be devastating. The more teeth you lose, the easier it is to feel embarrassed by your smile. Not to mention, you might experience other changes to your quality of life, like difficulty chewing certain foods. You're also at a heightened risk of oral health complications, like cavities, gum disease, and additional tooth loss. You don't need to live with the effects of an incomplete smile. We offer the latest solutions to replace multiple missing teeth. Besides traditional methods, we can also restore your smile with a dental implant bridge in Cumberland. No matter how many teeth you're missing, we can turn back the hands of time with a customized treatment plan.
Non-Implant Tooth Replacement Options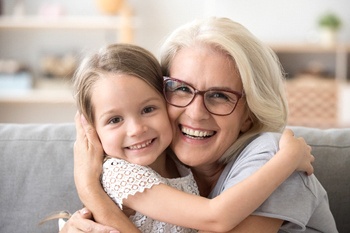 Traditional tooth replacement options only replicate the portions of your teeth visible above the gum line. Although they will always have their limitations, they can improve your ability to chew, speak, and smile confidently. Depending on your degree of tooth loss, you might benefit from:
Crown & Bridge
1 to 3 consecutive missing teeth are traditionally replaced with a fixed bridge. Your dentist in Cumberland takes an impression of your mouth to recreate the teeth you've lost. It's held in place by reshaping your adjacent teeth to bond dental crowns over them.
Partial Dentures
If you still have a few healthy teeth left, you might be a candidate for partials. Prosthetic teeth are attached to a gum colored base, which has a metal framework. This allows it to clip or clasp on to your remaining teeth to hold it in place.
Full Dentures
If you've lost all your teeth in one or both arches, a denture is an effective solution to restore your ability to chew and speak. Your prosthetic teeth are attached to an acrylic base, which uses suction or an adhesive to hold it on place. Although they have a bad reputation for looking fake, new innovations in dentistry allow them to look and feel more realistic than ever.
The Dental Implant Process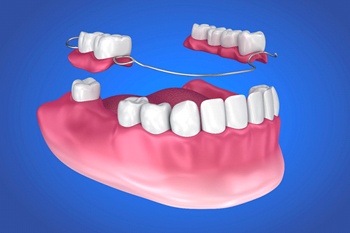 As an alternative to traditional prosthetics, many patients are choosing to support their restorations with dental implants. This allows you to replace the entire structure of a tooth, including the root. Titanium implant posts are surgically placed into your jawbone. After your bone fuses to them, special connector pieces called abutments are placed on each post to attach your bridge or denture.
Benefits of Implant-Retained Prosthetics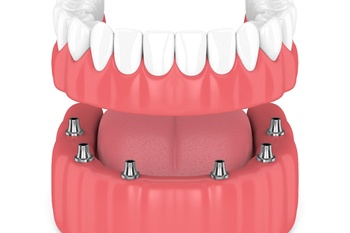 Supporting your prosthetics with dental implants allows you to enjoy a variety of benefits not possible with the traditional methods, including:
Over a 95% success rate to last for decades.
Looks natural to smile confidently.
Regain as much as 70% of your biting force.
Preserves your jawbone's density.
Supports your facial tissues.
Cost-effective, long-term solution.
Schedule an Appointment Today!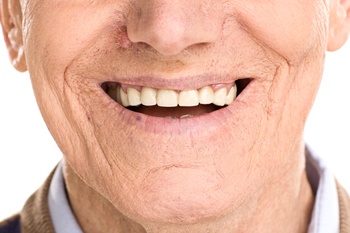 You don't need to live with an incomplete smile. We offer the solutions you need to replace multiple missing teeth. Contact our office today to schedule your consultation.